Christian County, Illinois and Auction

163.13 Acres*Offered in (2) Tracts Farmland & Pasture
GARWOOD FARM
"ONLINE BIDDING ONLY"
STARTS: Tuesday, March 12 @ 6:00 P.M.
ENDS: Tuesday, April 2 @ 6:00 P.M.
Register to bid @ corycraig.hibid.com
*163.13 Acres*

The Northeast quarter, except a tract 132'x198' in the Northwest corner of the Northwest quarter of the Northeast quarter, Section 1, Township 13 North, Range 1 West of the 3rd P.M. Christian County, IL


2018 Taxes: $2,078.90
PIN: 08-14-01-200-002-00

*Section 1, May Township*


•TRACT 1: 86 +/- Acres with Approximately 83 +/- Acres Tillable, PI 131.2 *OPEN TO FARM IN 2019* Access of 1800 N. Rd and 2100 E. Rd.

•TRACT 2: 77.13 Acres, Pasture Land with a few scattered trees, ditch,fenced and gates. This tract has some ideal home sites.
Access off 1800 N. Rd.


Auctioneer's Note:
If Tracts sell separately, seller will provide a survey.

Farm is located approximately 3 miles southeast of Stonington, IL, to Old Stonington (signs posted)
1800 N. Rd & 2100 E. Rd.

•FSA DATA:
Farmland: 160.74
Cropland: 150.32
Farm # 8340
Tract # 1899

•Corn: Base Acres-62.00
Soybeans: Base Acres-65.52

•YIELDS:
2018 Corn-265.87 bu.
2017 Soybeans-64 bu.


Terms and Conditions:

10% down at close of auction. Balance due and possession at closing on Thursday, May 2, 2019. Buyer(s) will be required to enter into a written contract at the close of the auction. Policy showing merchantable title will be furnished subject to easements and restrictions of record in place. Sellers rights in minerals will be conveyed, but not warranted.
2019 Farming - Pasture Rights open to buyer.
Advanced Title Group, Inc. 101 S. Washington St., Taylorville, IL (217) 824-8007, will be responsible for all Title work and the closing. Seller will credit the buyer at closing for the 2018 Real Estate Taxes that are payable in 2019. Have all financial arrangements and inspections made prior to bidding. Information in the advertisement is considered accurate however, it is subject to verification and no liability for errors or omissions is assumed.

PROPERTY BEING SOLD SUBJECT TO SELLERS APPROVAL.

Janet Cook, Joan Bohnhoff and Jill Spengler, Sellers

DAVE COKER, AUCTIONEER
CORY CRAIG, AUCTIONEER.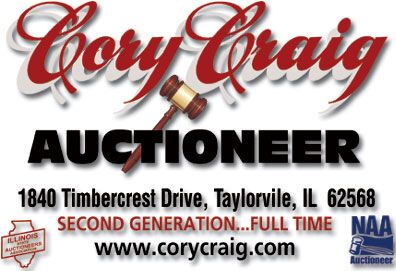 Copyright©2014 CoryCraig.com
Created and Maintained by Computer Tutor & Web Site Design